Take2 Clarity™ Test for NPC Monitoring
For nasopharyngeal cancer (NPC) patients who received or completed their treatments
, please consult your doctor for more details.
Better prediction of NPC recurrence is crucial to both patients and doctors. The Take2 Clarity™ Test utilises the Next-generation Sequencing (NGS) analysis that allows a more comprehensive, unbiased detection and quantitation of plasma EBV DNA. Through blood drawing, it provides robust and clinically proven assay performance in the prognostication of NPC patients after treatment.
Take2 Clarity™ allows better recurrence prediction with technological breakthrough
Limitation of conventional EBV DNA Tests
Low sensitivity for prediction of NPC recurrence. Up to 40% of NPC patients
who would later develop disease recurrence had unpredictable post-treatment plasma EBV DNA in tests based on qPCR technology¹.
#1 Advantage of Take2 Clarity™
The use of the Next-generation Sequencing (NGS) approach allows the detection of entire EBV DNA genome, which leads to a more comprehensive and unbiased detection of plasma EBV DNA molecules.
This provides better sensitivity for identifying patients with increased risk of recurrence.
#2 Advantage of Take2 Clarity™
Among patients with undetectable EBV DNA by qPCR approach,
NGS approach could further identify subgroups with different 5-year progress-free survival (PFS)
. This provides more accurate information for patients and doctors' references. Through appropriate treatment follow-ups, patients could enjoy
better survival outcomes
.
Comparison of Take2 Clarity™ and other qPCR-based EBV DNA tests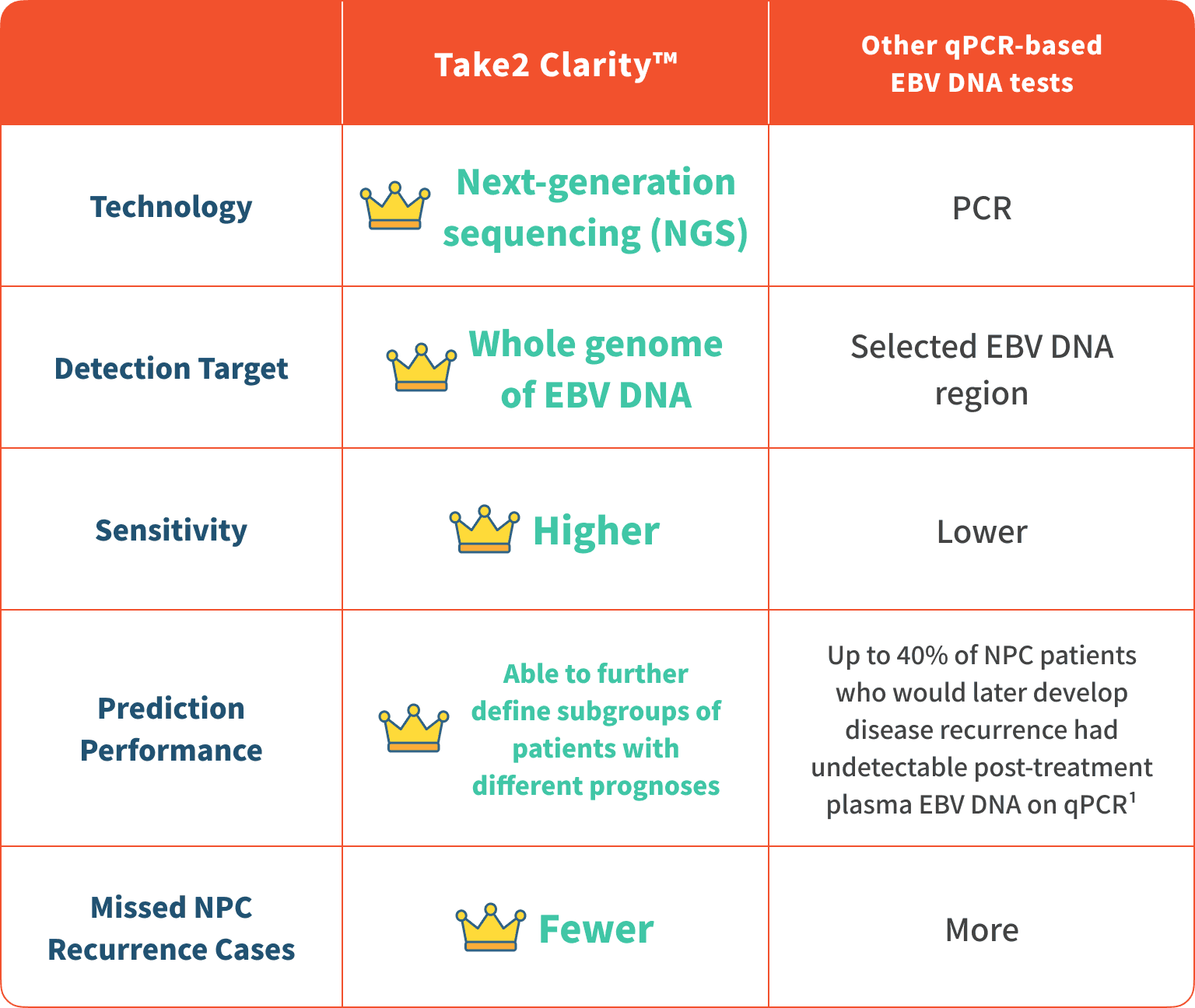 For nasopharyngeal cancer (NPC) patients who received or completed their treatments
, please consult your doctor for more details.
Contact Us
References
1.
Chan, D.C.T., et al."Improved risk stratification of nasopharyngeal cancer by targeted sequencing of Epstein-Barr virus DNA in post-treatment plasma.Annals of Oncology , 2022.